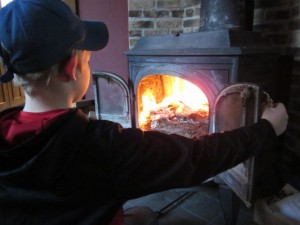 If you've come over here because you saw my Washington Post essay, Why Schools Are Failing Our Boys, welcome! If you're a long-time reader and haven't seen the essay yet, go check it out.
Today, I want to share the story behind that essay.
Breaking into the Washington Post has long been a goal of mine, but when I started writing that morning, I wasn't writing with the intention of cracking WaPo. I wasn't even planning to write an essay. I was writing because I was frustrated, and writing is how I deal with confusing situations that keep swirling around in my head.
My youngest son (the one pictured at the top of the essay), has struggled with school ever since Kindergarten. He's gotten into trouble for talking, for moving, for drawing poop at the back of the giraffe in Art Class. He's smuggled black walnuts into school via the waist band of his pants, and so far this year, we've heard behavioral complaints from his classroom teacher and his music teacher.
Because my son is the youngest of four boys – and because I've been parenting and writing about boys for longer than he's been alive – I know that his struggles had very little to do with him, and very much to do with our society and school system.
Don't get me wrong: My son sometimes makes bad choices, both at school and at home. But most of his problems with school stem from his entirely reasonable wish to be able to move, explore and learn in ways that work for him.
My youngest son is not the first one of my boys to struggle with school. In fact, he's now nearly the exact same age my oldest son was when we decided to pull him out of school and homeschool him. School wasn't meeting his needs either; it was eating at him instead of nourishing him. So we pulled him out, and he spent the next 10 years following his passions. He started businesses. He spent time outside. He dove deep into US and World history and read books and experienced the real world.
That son is now 17, a junior in our public high school. He and my other sons – including the one described in the essay – all attend public school full time. I toy with the idea of pulling my youngest out; I think he'd thrive. (Whether or not we can make it work right now with our family circumstances is another story).
Even so, that would be a tiny fix. It would only help my son. I wrote my essay and shared our story because I want other parents of boys to know they're not alone.
That's where most of my writing begins. It's borne out of a concern for my sons, and it extends into a desire to improve the world for all boys.
That's why, when I finished writing my thoughts, I submitted my essay to the Washington Post. It's why I'm thrilled it was accepted, and why I do what I do here at Building Boys.
I encourage you to look around, and I invite you to share your stories and concerns with in the comments section below.