The First-Time Mom's Guide to Raising Boys: Practice Advice for Your Son's Formative Years
By Jennifer L.W. Fink, Building Boys founder and co-host of ON BOYS parenting podcast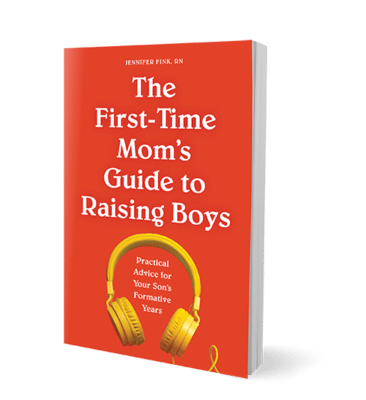 Raise a kind and confident son with this advice for parenting boys ages 8 to 12
Parenting a young boy can feel like total chaos, especially if he's your first. His mind and body are changing, and so is his relationship with you. How do you handle puberty? His schoolwork? Health and hygiene? Don't worry, The First-Time Mom's Guide to Raising Boys will walk you through all of it with clear and proven advice. 
This is your complete resource for raising boys:
Tackling the tough stuff―Address important issues like puberty, sex, consent, and mental health, with advice for initiating crucial conversations.
For modern families―Explore advice that works for families of all types, plus tips for raising boys in the ever-expanding digital worlds of YouTube, Twitch, and more.
Moments of reflection―Each chapter ends with thought-provoking questions that encourage you to think about your hopes and fears as a parent, and identify your values and priorities.
Coming….Jennifer's SECOND book about raising boys
This one contains a set of guidelines that parents can use to direct their parenting choices throughout their sons' lives – guidelines that are as relevant to parenting toddlers as they are to parenting teenagers.
Advance praise from Steve Biddulph, author of the million-selling Raising Boys:
"There's a massive wish out there to make boyhood better, to help make better men.
Few books though are so readable or sing with the life and heart that this one does.
It makes the pathway of raising a boy seem fun, gutsy, and really quite clear. That's a rare achievement."