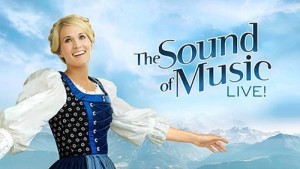 I owe Carrie Underwood an apology.
Like 18.5 million other viewers, I sat down to watch The Sound of Music Live last night. And like many of them, I almost immediately took to Facebook and Twitter to trash the show:
@wriglied The lighting is terrible.

— Jennifer L.W. Fink (@jlwf) December 6, 2013
@pdtoler The Tweets are the best part.

— Jennifer L.W. Fink (@jlwf) December 6, 2013
@julichilliard Singing and beauty are great. Acting? OUCH!

— Jennifer L.W. Fink (@jlwf) December 6, 2013
I'm kinda thinking the Captain should marry the Baroness this time around… #TheSoundOfMusicLive

— Jennifer L.W. Fink (@jlwf) December 6, 2013
I even shared other people's negative comments about the show:
Ha! MT "@larzmarshall: How about cutting away to Simon Cowell after each scene for some biting analysis? #TheSoundOfMusicLive"

— Josh Levs (@JoshLevs) December 6, 2013
As I watch #TheSoundOfMusicLive all I can think is, Jesus, PLEASE take the wheel!

— Ash Greyson (@AshGreyson) December 6, 2013
This morning, I woke up feeling regret for my actions, because I realized this: I'd done exactly what I hope my sons never do. And worse yet: I did it with them in the room, sharing the "funny" tweets with them and laughing, together, at Carrie's efforts.
We've all heard so much about online bullying, about kids who say and type and tweet mean things about other kids. As adults, we shake our heads and talk sternly to our kids and set rules regarding social media usage. We talk about respect, and every now again, we're forced to confront the fact that "our words matter far less than our actions, when it comes to parenting kids."
I wrote those words nearly a year ago, in a post about bullying and gun violence. And yet, last night, I sat on my couch and ridiculed Carrie Underwood. I chortled when someone posted a pic of a wooden board with the caption, "Carrie Underwood's understudy," and I called her acting "high school musical level."
Then I realized, this morning, that high school musicals may well be the extent of Carrie's theatre experience. Before she went on American Idol, she was, by all accounts, a small town girl from Oklahoma. Since then, she's mastered the role of country music superstar. Her vocals are stellar. Her videos, powerful. And her concerts are great. (I went to one earlier this year.)
So maybe "nailing her to the cross," as my mother would say, for not nailing her performance of an iconic theatre role was a bit extreme. Doing it in front of my children? Absolutely wrong.
Ms. Underwood took a chance. She tried something new. She tried something incredibly difficult. (Can you imagine trying to sing without a twang, when you've sung with a country-sound your whole entire life? When that sounds is what made you famous?) And instead of supporting her, I slammed her. Online and in print.
And you know what? I had fun doing it. I enjoyed trading barbs and comments and insights with all of the other people online who were trashing the show. I was part of a social phenomenom, part of "the cool kids."
At the time, I didn't see anything wrong with my actions. I was simply stating my opinions and observations. I was sharing and agreeing with others' opinions and observations. The fact that our opinions and observations might hurt the feelings of some very real people never entered my mind.
I think that's how our kids feel when they participate in online (and in person) harassment and bullying. Most of the kids, anyway, aren't trying to cause damage or harm. They're going along to get along. They're stating what they think to be true facts. They're trying to remain part of the herd so they're not the next targets.
I want to teach my boys to always, always be considerate of other people's feelings. I want them to value basic human dignity above social status. I want them to support others, not tear others down.
If those are my goals, I need to start role modeling respect on a consistent basis. I need to make sure my online actions align with my real life behavior, and that both align with my core values.
I need to tell my boys I was wrong last night.
They'll shake their heads, tell me I'm too sensitive and soft and defend many of the comments we made last night. But I need to tell them anyway. They need to know where I stand, for real. They need to know that everyone, parents included, makes mistakes, and that the first step toward making something right is acknowledging that you were wrong. So tonight, I'll talk to my boys.
Now, I'd like to apologize to Ms. Underwood and everyone else who poured their hearts and souls into The Sound of Music Live: I'm sorry. I judged you harshly. I admire your efforts, strength, passion and enthusiasm. Thank you for making live theatre a part of this holiday season, and thank you for being among the dreamers and doers in this world.