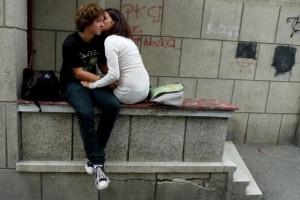 I think I pressured a boy into having sex with me. 
I was 16 at the time. So was he. It was our first date — and my first date, ever — after weeks and months of talking in study hall and passing notes. We went to see a movie (Twins, with Arnold Schwarzenegger). He drove. He brought me home. He parked in my driveway and we kissed with the bright glare of the garage light shining in through the front window.
I didn't say no, ever. I kissed back and I responded to every single thing he did and I lost my virginity right there, in the front seat of his car, despite the safe sex ad that that emanated from his radio.
A few days later, he passed me a note in the hallway: What happened should have never happened. There was more, but that's the phrase that's stuck in my head, even now, 30-some years later.
I was livid. What I thought was the beginning of a relationship was the end. I never spoke to the boy again. And for years, I was angry at him.
Then I had boys. I started paying attention to the messages, overt and otherwise, that our society sends boys about sex. And I realized this: The boy probably felt like he couldn't stop. I mean, there he was, in a car, with a girl who wasn't saying no. According to practically every message he'd probably ever received, he was obligated to go forward. I mean, c'mon. What kind of guy STOPS or SAY NO if the girl is willing?
Boys Feel Pressured to Have Sex
Believe it or not, teen boys can be pressured into unwanted sexual situations — and unwanted sexual activity hurts boys every bit as much as it hurts girls.
A study published in 2014 found that 43 percent of high school boys and young college men had had an unwanted sexual experience and of those, 95 percent said a female acquaintance was the aggressor. According to one of the researchers, " 'unwanted seduction' of young men by women is largely overlooked in existing academic research…[but is] a particularly pervasive form of sexual coercion in this study, as well as peer pressure and a victim's own sense of an obligation."
Translation: Boys are having sex because they feel pressure from girls, from their friends and from themselves. 
I want to tell you that I didn't come on to the boy in the car. I think I could tell you that. But another part of me thinks that I may have been the one to reach over and unzip his pants — not really because I wanted to have sex, but because I felt like that's what was expected; because that seemed to be the next step. Of course, I didn't tell him that. If that is indeed what I did — if I reached over and unzipped his pants — how could he not interpret that as anything other than a come on? As pressure to perform?
Thirty one percent of the boys in the research study said "they were verbally coerced [and] 26 percent described unwanted seduction by sexual behaviors."
That figure should give anyone pause: nearly 1/3 of  surveyed boys reported being the subject of unwanted sexual seduction. I'm going to guess the real number might actually be higher. Boys aren't always keen on admitting that they've been the subject of unwanted sexual attention. How can they be, in a society that essentially tells them they should want (and welcome!) sex all the time?
Helping Boys Say No (and Save Face)
Unfortunately, sexually aggressive behavior has become increasingly common in our society. One of the researchers involved in the study commented, "I really do believe that girls are more aggressive sexually today than they were ten years ago," and I have no reason to doubt her. I've heard similar comments from educators, school administrators and parents.
The reality is that today's boys are likely to find themselves the object of strong sexual attention. Some boys will welcome this attention. Some will not. Our job is to help boys learn how to handle this attention.
Step 1: Let boys know it's OK to say no. Our boys are growing up in a culture that encourages sex. In many corners, having sex is associated with masculinity: If you have sex with women, you're a man. If you don't  — especially if the offer is presented to you! — you are definitely less than a man.
Our  boys need to know it's OK to say no. Our children are not getting nuanced messages from pop culture, so they need to hear nuanced messages at home. Kids need to hear that sex is way for people to show their love — but they also need to hear that it's possible to love someone without having sex. They need to know that even two people who love each other sometimes choose not to have sex because one person is tired or just doesn't feel like it.
Our boys need to know that their feelings matter too. We, as a society, spend so much time talking to our boys about girls' right to consent that sometime we forget to mention that their feelings matter too. We need to let our boys know that not wanting to is a perfectly OK reason to turn down sexual activity. We need to let our boys know that NO is always a perfectly acceptable answer, no matter what the reason.
Step 2: Talk about reasons to have sex. We spent a lot of time telling our kids why not to have sex. That's important information that definitely should be part of the larger conversation of sex and sexual health. I'd argue, though, that we also need to talk about good reasons to have sex. Good reasons to have sex include being in a committed relationship, when both parties agree that they want to have sex. Good reasons do not include because she wanted to or because my friend did or everyone will laugh at me if they find out I said no.
Step 3: Talk about sexual aggression and pressure. Boys need to know what sexual aggression is before they can respond appropriately. Talk about the difference between flirting and sexual aggression. Point out examples on TV and in movies and videos.  Reality shows and prime time TV shows and music videos include all kinds of examples of sexual aggression. Comment on those scenes. Ask your boys what they think. Ask about the girls they know — do the girls ever come on strong? How do the boys react? How do they feel?
Step 4: Intro white lies. In general, I believe in honesty. But my kids also know that I'm perfectly OK with lies that help them make good choices and save face. They know, for instance, that they can blame me for anything their friends want to do that they don't want to do. (Invited to party where there's drinking? It's perfectly OK to say, "My mom won't let me out that night!")
Give boys some "outs" they can use in case of unwanted sexual attention. It's OK to say, "I don't want to" — but it's also OK to say, "I gotta go now. My dad will go crazy if I'm not home in 10 minutes" or "I gotta keep my strength up for the game." Help the boys in your life brainstorm some possible responses now, because it's a lot easier to think straight when you're not in a sexual situation.
Over 30 years later, I realize that the boy in the car with me was just as confused as I was. Neither one of us knew what we were doing. We probably both would have been happier if we'd simply watched the movie together; in hindsight, I don't think either one of us really wanted to have sex. But we did, and it took me nearly 30 years to let go of the resulting anger and hurt and confusion.
I don't want my sons — or anyone — to have sex because they feel like that's what's expected of them. I want them to know it's OK to say no.