I don't want my kids to wear masks in school.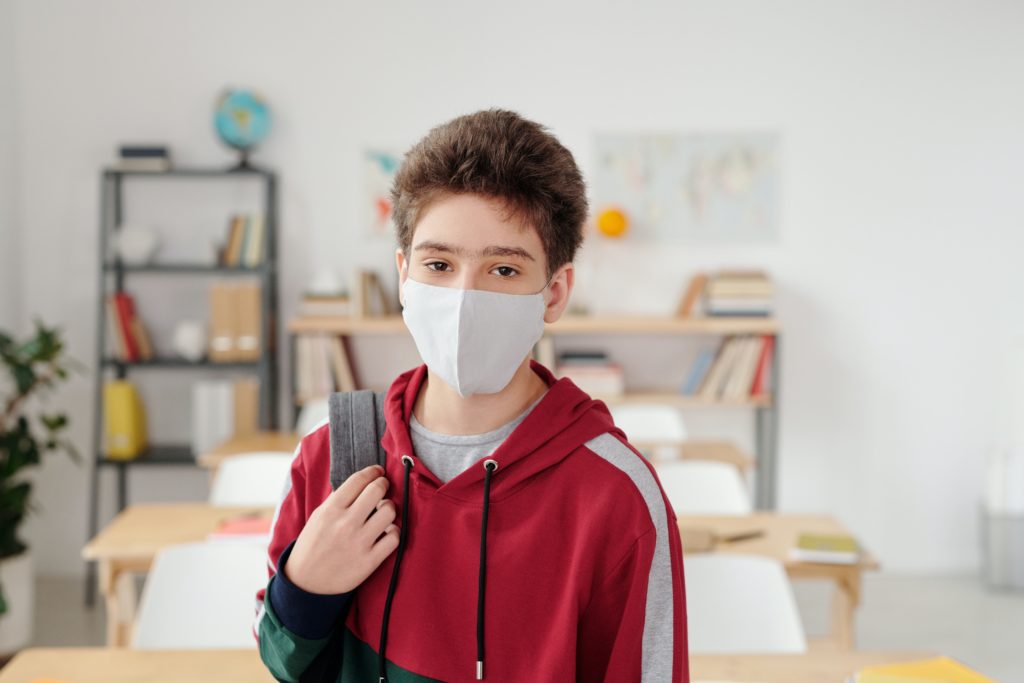 Photo by Max Fischer from Pexels
Masks are uncomfortable and annoying. They make it more difficult for students to hear teachers (and vice versa) and they hide facial expressions. Also, it is a complete pain-in-the-know-what to make sure that everyone has a clean mask every day.
As a Registered Nurse-turned-health and education writer, parent, and local school board member, I've been carefully tracking the pandemic since…well, since I developed a cough, high fever, and extreme fatigue in the Caribbean just a few months after COVID-19 was first reported in China. I Googled furiously, looking for information and guidance, but at that time, COVID tests weren't widely available and online news stories focused on China, Italy, and Iran.
We, collectively, didn't know much about COVID-19 then. Since then, we've learned a lot. We now know how COVID spreads and how to slow its spread. We've learned that most people survive infection, but that some become seriously ill and some develop long-term health complications. We also learned that in-person school is absolutely essential for the well-being of many children, families and communities.
There are still two weeks (or more) before most children in the United States return to school. If you don't want your kids to wear a mask in school this fall, do this right now:
1. Get vaccinated.
As a school board member, I can tell you that decision to require (or not require masks) is based on community infection rates and public health advice (which is based on community infection rates and trends). Our district looks at district data; we make decisions based on how many of our learners, teachers and staff are infected, isolated, or quarantined, and those numbers are heavily influenced by our community infection rates. We had the highest number of COVID-related absences in October and November 2020, when our community was hard hit by COVID.
If community infection rates are low, we are unlikely to require masks. Right now, vaccination is the quickest, easiest, and safest way to decrease infection rates. It's true that vaccines cannot entirely prevent COVID-19. (So-called "breakthrough infections" are COVID cases that occur in fully vaccinated individuals.) However, evidence suggests that vaccinated people are only half as likely to pass the virus on to others.
The more vaccinated people in a community, the lower COVID-19 infection rates will be. Researchers crunched the numbers and have found that "for each 20 percentage points of individuals who are vaccinated in a given population, the positive test fraction for the unvaccinated population decreased approximately twofold." Data analysis shows that more than 460 counties are currently experiencing high rates of COVID-19 infection. 80% of those counties have less than 40% of their population vaccinated. 
2. Get your kids vaccinated.
The Pfizer-BioNTech vaccine is available for children ages 12 and older. Kids generally hate shots, and their parents hate taking them for shots. (I know I do!). It is scary to allow a human to inject a foreign substance into your perfectly healthy child, and the news reports you've heard about heart inflammation in children who've received the vaccine probably aren't helping. 
Here's what we know: As of July 1, 2021, approximately 1,000 cases of myocarditis and pericarditis (two types of heart inflammation) had been reported after COVID-19 vaccination. These cases most commonly occurred in male teenagers and young adults, at a rate that is higher than expected for this age group. Most of these cases were mild, but some required hospitalization. Researchers are currently digging into the data to learn more.
COVID-19 can also cause heart inflammation and damage. In fact, your child is more likely to experience heart damage as a result of COVID infection than COVID vaccination.
The more children who are vaccinated in a community, the lower community infections rates will be. Lower infection rates = increased likelihood that kids won't have to wear masks in school. 
3. Encourage others to get vaccinated.
See points 1 and 2. 
4. Share important information about the Delta variant.
When COVID-19 first hit the United States, children were largely spared. Some kids got COVID-related multisystem inflammatory syndrome (MIS-C), a serious medical problem characterized by inflammation of the heart, lungs, kidneys, brain, skin, eyes or digestive organs, but most kids who got sick didn't experience anything much worse than the common cold. 
That may be changing with the Delta variant. Some hospitals are reporting increasing hospitalizations of children with the Delta variant. Nationwide, COVID-19 infections in children and teens increased by 84% last week. Some previously healthy kids are ending up in intensive care units.
The Delta variant circulating now is not the same virus that went around last year. It is way more contagious – more contagious than the common cold.  (And when was the last time your kids managed to not contract a cold in the wintertime?)
5. Follow local public health advice.
Right now, my county health department recommends wearing a mask in public indoor settings. That's a change from last week, when the health department said vaccinated people didn't need to wear masks. The changing advice is the result of data: COVID-19 infections are once again increasing in my community; we have reached "substantial" spread.
I don't want to put a mask on again, but I'm doing so because I really, really, really want school to proceed as normally as possible in the fall. Wearing a mask in public, when advised by public health officials, is another way to decrease community infection rates – and increase the probability that our kids won't need masks in school.
Our students are scheduled to start in-person classes after Labor Day. Right now, masks are recommended, but not required for the 2021-2022 school year. Our school board meets again in two weeks. Then, we'll look at local infection rates and public health advice and update our guidelines if needed. If infection rates are down and the spread of COVID-19 is under control, students and teachers won't need masks.
Act now if you don't want kids wearing masks to school.