What if it had been a guy?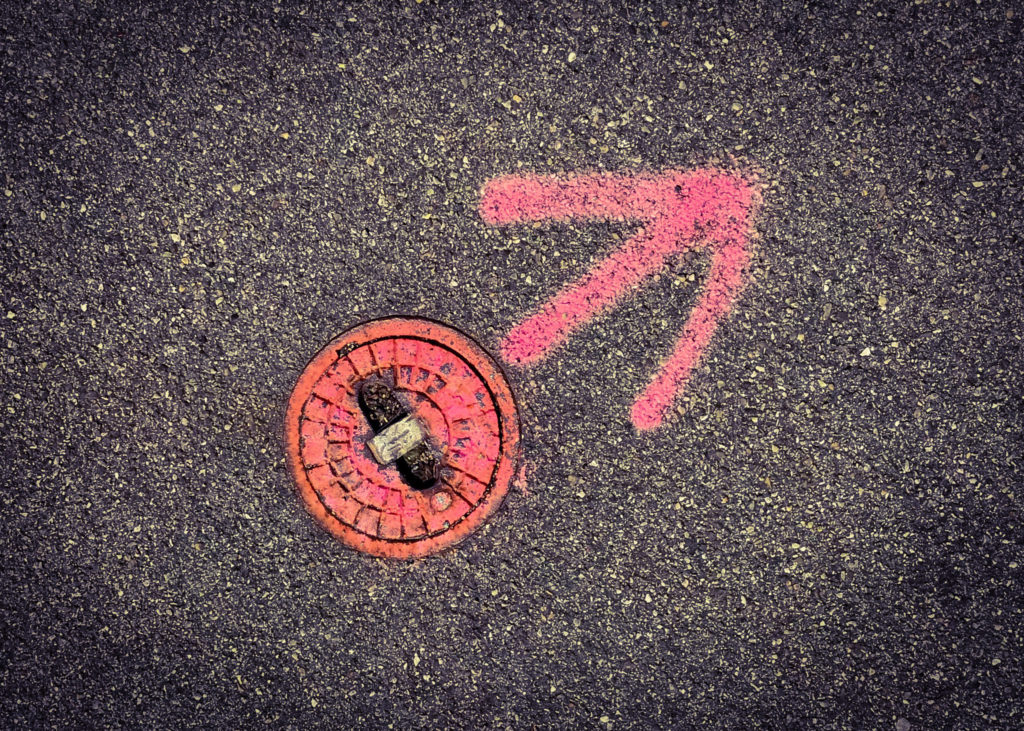 What if, say, Tom Brady took himself out halfway through the Super Bowl because he realized his head wasn't in the game? (And what if the Buccaneers were a touchdown or more behind when he did so?)
Or if Giannis Antetokounmpo failed to suit up for game six of the NBA finals because the stress and pressure of the Milwaukee Bucks' historic run were interfering with his ability to sleep and play?
In the wake of Simone Biles' withdrawal from the Olympic women's gymnastics team final and individual all-around competition, some commenters have called her an "arrogant," "selfish" "quitter" who is "a national embarrassment." Can you imagine what they'd say if she was a guy?
He choked.
Weak.
Pussy.
People wouldn't just be criticizing his decision; they'd be attacking his manhood.
How can I be sure? I've spent the last 20 years in bleachers, watching my four sons compete in various sports. I've heard countless coaches tell little boys to "man up!", "stop crying," and "rub some dirt on it!" I've seen and heard the applause male players get when they play hurt, as well as the vicious criticism that follows them if they take time to heal.
In 2013, when then Green Bay Packers linebacker Clay Matthews sat out for a month with a broken thumb, fans said, "Toughen up a littl"
"What a joke. Wrap that damned thing up & get out there!!"
and "Be a [expletive] man. Dudes play with more painful injuries than that"
The man had a physical injury, one that could be visualized and documented with an x-ray. A medical doctor likely recommended rest and fans still criticized Matthews' decision to prioritize his health. Imagine if his injury was invisible. No wonder we have yet to see or hear from an elite male athlete who's stepped aside at his physical peak.
Male athletes are starting to talk
Michael Phelps, the legendary American swimmer and most decorated Olympian of all time, has been solidly in Biles' corner. Since 2018 – two years after his last Olympics– he's talked openly about his struggles with depression and suicidal ideation.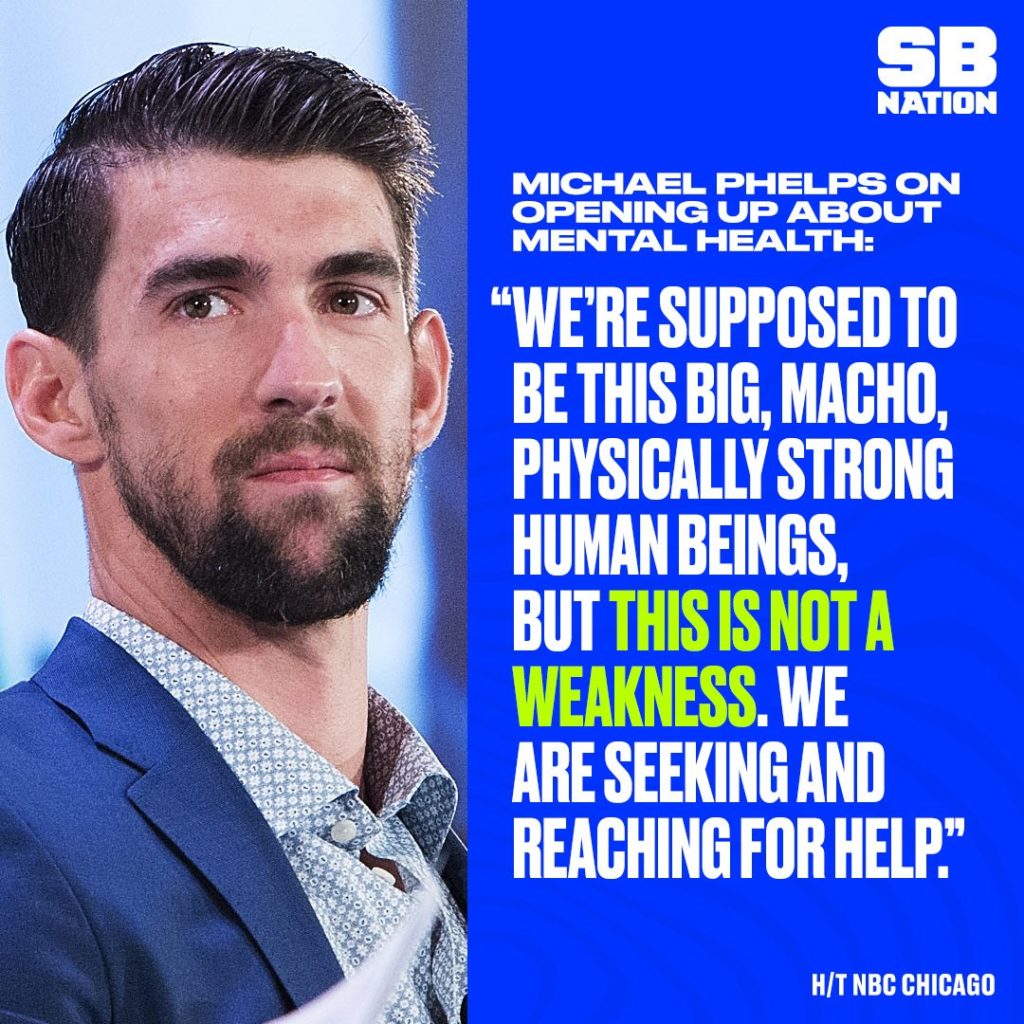 A couple other elite male athletes have since joined the conversation. Among them are NBA player  DeMar DeRozan, who was with the Toronto Raptors in February 2018 when he tweeted, "This depression get the best of me…." and Cleveland Cavaliers player Kevin Love, who experienced a panic attack during a November 2018 game vs the Atlanta Hawks.
In Love's groundbreaking March 2020 essay, "Everyone is Always Going Through Something," he wrote that he decided to go public "because people don't talk about mental health enough. And men and boys are probably the farthest behind."
Like so many men, Love was immersed from boyhood in messages that told him exactly how (and how not) to be a boy and man.
"It's like a playbook," he wrote, "Be strong. Don't talk about your feelings. Get through it on your own."
Athletics still steeped in toxic masculinity
The indoctrination starts early and is often amplified in sport. My youngest son was six years old, playing in his first-ever coach-pitch baseball game, when I heard one (male) coach ridicule the (male) right fielder, a young boy who'd seen no action because, well, very few six-year-olds smack the ball into right field. The boy's eyes had drifted to the nearby playground and his feet kicked at the dirt.
"Jimmy!" the coach called, his tone less-than-friendly. "Are you one of those who loves to play in the sand?"
Jimmy, of course, didn't answer. At six, he already knew it was better to keep quiet than speak up.
"I think you are," the coach said, his voice taunting. "I think you're one who likes to play in the sand. Are you one of those who loves to play in the sand or are you a ballplayer?!"
The coach, I am sure, meant to inspire the player. He'd probably used the phrase before; he may have even seen players snap to attention in response. I'm sure he didn't realize that he was telling a concrete-thinking six-year-old child that a person can either enjoy playing in the sand or be a ball player – or that his tone clearly conveyed which was the "right" choice.
Despite the advocacy of Phelps, Love, DeRozan, and others, little boys are still regularly shamed, admonished, and instructed to play through pain. When Julie MacLennan's then-14-year-old son got a concussion during a lacrosse tournament, his coach took away the MVP award the child earned on the first day of the tournament because the boy couldn't play on day two. Amanda Barnes' son was "cussed out" when he didn't play well in an elementary school all-star soccer game; it turned out, the child had a raging fever.
Note: these are coaches' responses to boys' physical pain and injury. No wonder players are loath to admit mental pain. No wonder Phelps, DeRozan, and Love didn't initially realize they were experiencing mental distress. For nearly three decades of their lives, everyone around them encouraged them to suppress and push through pain.
No wonder male suicide rates are nearly four times that of females.'
Let's prioritize male mental health too
I don't think it's a coincidence that Simone Biles and Naomi Osaka, the Japanese tennis star who withdrew from the French Open and Wimbledon, are the two most recent high-profile athletes to pause competition to concentrate on their mental well-being. Culturally, women are allowed to explore their feelings in ways that men still are not. Biles and Osaka are also backed by a community of women who are likewise exhausted from constant attempts to live up to others' expectations – a worldwide community that is collectively resisting gender limitations and loudly advocating for their needs.
Despite males' continued dominance in so many industries, there's yet to be a collective pushback against the gender norms that restrict boys and men. Against the idea that males' bodies are more valuable than their hearts, minds, and souls.
There's yet to be a collective call to recognize and appreciate the full humanity of males. The playbook that restricted Kevin Love's emotional awareness is still in use today. Right now, someone is telling a little boy to "man up!" It's time for the rest of us to stand up and say that boys and men deserve emotional support and mental wellness too.