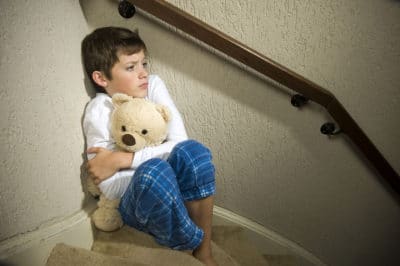 Could your son be depressed?
My good friend and fellow blogger, Sarah E. Ludwig, has a terrific article about childhood depression in Parenting magazine. Among her points:
Childhood depression is more common than you may think. 1 in 20 children and teens are clinically depressed.
Depression is often masked by other issues. ADHD, anxiety and obsessive-compulsive disorder may all occur in conjunction with depression.
Irritability can be a major sign of depression in kids. Sure, we all expect some irritability from our children as they approach their teen years, but a kid who's constantly annoyed and irritated may actually be depressed.
Early diagnosis and treatment is key. Prolonged untreated depression, Sarah writes, can actually change the shape of the brain.
If you think your son may be depressed, get him help NOW. (You can find a list of symptoms here.) Help doesn't necessarily mean anti-depressants, although anti-depressant have been used effectively in children. Help can include cognitive behavioral therapy, coping skills and emotional support.
Of course, not all depressed kids require years of psychotherapy or medication. Some kids experience transient situational depression, a natural response to a traumatic event. And some kids are only mildly depressed; with time and attention, their depression may resolve in weeks. Other children, however, struggle with a despair so dark and deep that it feels unending. A professional can help you determine the severity of your child's depression and plan appropriate treatment.
Have you dealt with childhood depression? I'd love to hear your story.