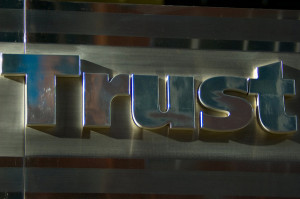 Do you trust your son?
Think about the question for moment. Your answer probably varies — trust my son where? you might wonder. To do (or not do) what? And that's reasonable. I mean, if you leave a two-year-old boy unattended in a bathroom with an action figure, it's not exactly reasonable to trust that the action figure won't find his way into the toilet.
But what about the big things? Do you trust your son to make good choices? To learn and grow from his choices?
I do. And I trust that your sons are capable of doing the right thing and becoming great people as well.
Recently, another boy-themed site posted a link to an article entitled, "The 5 Worst Books for Your Children." I'm guessing that the title and post were deliberately designed to be provocative, to provoke clicks. (And I guess I'm helping, in that regard.) But I find the whole idea of "worst books for your children" to be absolutely ludicrous, because all children and all families are different. Who is anyone, really, to tell me or my children what is "worst" for us?
I usually stay out of highly-charged, emotionally-laden internet conversations, but I couldn't let this one past. I responded:  I completely disagree with the list, and the entire concept. Trust your kids and your parenting enough to let kids read what they want.
I thought of that comment today when I read Carolyn Hax's column, "Mothers Seeking to Give Advice to Grown Sons." The two moms who wrote to her were concerned about their sons' futures. One son was 18 and headed to college; mom worried that he'd spend all his time commuting back and forth to his girlfriend's campus and very little growing and enjoying life at college. The other "boy" is 37 and mom worries whether or not he's being too picky in choosing someone to marry.
Mom #1 wrote," I don't want to damage our changing relationship or make him think I question his ability to handle things," and Carolyn rightly called her on it ("You do question his ability to handle things, that's your whole letter.")
That brought me back to the question of trust.
I cannot make my boys do anything. I can guide their choices and provide consequences, but there is no surefire way for me to ensure that my boys will do their chores or treat their brothers nicely. In fact, I can safely assume that  much of the time, my boys will resist my parenting. They will hit one another, despite being told many times not to hit. They will call each other names, despite the fact that one of our family rules is  "Treat others with respect." And they will do everything possible to avoid their chores.
That's what makes parenting exhausting, right? We can do all the right things — model good behavior, set reasonable & appropriate expectations, establish consequences — and our kids will still do something wrong. We will still find ourselves saying, over and over again, "Don't hit your brother," "Go to bed, "Do your homework," and "Eat your veggies."
But I trust in the process. I know my boys make some bad choices; I see them each and every day. Yet I believe that our family values are slowly seeping into the boys. I trust that, over time, my boys will grow into good men. And I trust my boys and my parenting enough to let them make many of their own choices.
Don't get me wrong: It's ludicrous to trust that a teenage boy will choose classic literature over porn, especially if the only reading material in the house is Playboy and Penthouse. It's foolish to believe that a toddler will choose carrots over Cheetos if everyone else at the table is eating Cheetos. That's where the parenting part comes in. As a parent, I believe it is my job to expose my children to good, healthy choices, and to model healthy behavior. I believe it is my job to guide my kids, to offer Cheetos sometimes instead of always, to protect my kids from adult material before they're ready to see and process it and to talk to them about the choices they make.
That, I can do. I cannot make their choices for them, either now, when they're children, or later, when they've grown into adults.
You can try to micromanage your son's lives. You can carefully control their food, clothing, reading material and ever their circle of friends — but only up to a certain age. At some point, your boys are going to be bigger than you. At some point, they will discover the world beyond their carefully vetted environment. And at some point, whether you like it or not, they will begin making their own choices.
You can worry about that, if you want to. Personally, I'd rather trust my boys and parenting.