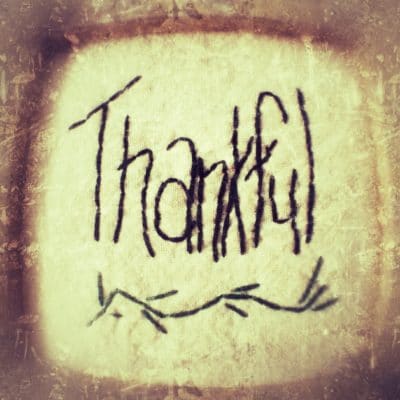 The turkey is in the brine, the pies are on the front porch and my sister, thankfully, is bringing the potatoes. My home is not clean; it's presentable. The boys helped me vacuum and dust (the downstairs) and the toys — well, the toys remain scattered at best.
But tonight, I am giving thanks. Tonight, I received an email from a former writing student who shared an essay she'd recently written. I won't divulge the contents of the essay, because she's currently in the process of submitting it for publication. I will tell you this, though: her essay told the story of help from unlikely places, of how we are never alone as we think.
Her theme resonated with me. My family has been challenged like never before over the last two years, but we have never been alone. Every step along the way, we have been held up and supported by the love of friends and family. Friends, family and even strangers have provided words of comfort and hope; financial, physical and technical support, work referrals, companionship and more.
My 74-year-old father split wood in the heat of summer so that the boys and I would have cheap heat this winter. Tonight, my home is heated not by wood, but by my father's love.
Numerous writing students, including the essayist, have shared their hearts and hopes with me. While I was officially their teacher, I learned more from them then they may ever know. I learned the power of voice, of truth, of honesty. My students reminded me that writing is a way to infuse our lives with meaning, to find deeper meaning in the deitrus of our everyday lives.
The women in my life have proved to me, time and again, just how strong women are. From writer-mamas to the recently single, they have taught me the power of persistence.
And my boys — my boys! — continue to amaze and inspire me. Daily, they fight and struggle. Daily, they drive me crazy. But just as I'm about to give up hope, they do something incredibly kind, compassionate and thoughtful. The most recent example? My boys are chipping in to buy chickens for a family in a Third World country. Instead of buying presents for one another this holiday season, they've chosen to help a family less fortunate than ours.
Somehow, the message has sunk in. Somehow my boys have absorbed the lesson of these past few years. Somehow, they've realized that the world is a much better place when we help one another.
Tonight, I am thankful for all who have helped me.