The best memories are made when families spend quality time together. These memories last a lifetime and are something that can be cherished forever. So if you're looking for ideas on how to have a fun-filled family vacation, you've come to the right place! This blog post will discuss a variety of different options for vacations that the whole family can enjoy. Whether you're looking to stay close to home or travel to a faraway destination, there is something for everyone. So pack your bags and get ready to have some fun!
1) Take a road trip:
A road trip makes for the perfect family vacation. Not only is it a great way to get away from the hustle and bustle of everyday life, but it also allows you to explore different parts of the country. Plus, if you plan ahead, you can make sure that everyone in the family gets something out of the experience.
Start off by choosing your destination, then think about the route you'll take and where you'll stay overnight along the way. Next, decide what sites you'd like to visit and look for interesting activities for all ages. Make sure everyone has plenty of snacks and drinks for the journey too.
For fun together time, plan some car games or sing-alongs. Then, stop frequently to explore and give everyone a break from sitting in the car – go on hikes or hikes to waterfalls, visit historical sites or museums, or enjoy local foods at roadside diners or farmers' markets.
My favorite family road trip was a trek from Wisconsin to the Titanic Museum in Pigeon Forge, TN. My youngest was 6 years old at the time, and a huge Titanic fan. I didn't have a lot of money at the time — it was shortly after our divorce — so we camped along the way at Indiana Dunes National Park, Mammoth Cave, and the Great Smoky Mountains. 3 National Parks, an immersive Titanic experience (pun intended!), and lots of time with my kids = a memorable trip I'll always treasure.
2) Rent a beach house:
Renting a beach house is an ideal way to make your next family vacation memorable and fun. Not only do you get the benefit of being near the ocean, but there are also plenty of activities for everyone. With a beach house, your family can play in the sand, build sandcastles, swim in the sea, or walk along the shoreline. You can even enjoy relaxing evenings watching sunsets from the deck or porch.
By renting a beach house, your family will have all the amenities of a home, such as a kitchen where meals can be prepared and enjoyed together. In addition, many beach houses come with multiple bedrooms, so everyone has their own space to sleep and relax after a long day of activities. Plus, some beach houses may even include extra features like a pool or hot tub for more luxurious entertainment options.
Aside from spending time at the beach itself, there are also plenty of other things to do nearby, such as fishing trips, boat tours, kayaking excursions, and visits to nearby attractions like aquariums and theme parks. Altogether, it makes for an unforgettable vacation that your entire family will treasure!
3) Go camping:
Going camping is one of the best ways to spend quality time with family. Not only is it an inexpensive way to travel, but it also allows you to bond and create meaningful memories together. Whether you're looking for a remote getaway or prefer more amenities, there are plenty of camping options to choose from.
Before heading out on your camping trip, make sure you plan ahead and bring all the necessary items, such as tents, sleeping bags, flashlights, food, water, and the quietest camper generator you can find. Afterward, you can choose from a variety of activities, such as swimming in a nearby lake or river, fishing, hiking trails, or even exploring nature in search of wildlife! Remember your camera as well – capturing those special moments will help preserve the memories for years to come.
In addition to being enjoyable and exciting, camping can also provide educational opportunities for the whole family. For example, point out constellations in the night sky or teach kids about different plants and animals they may encounter while on their journey.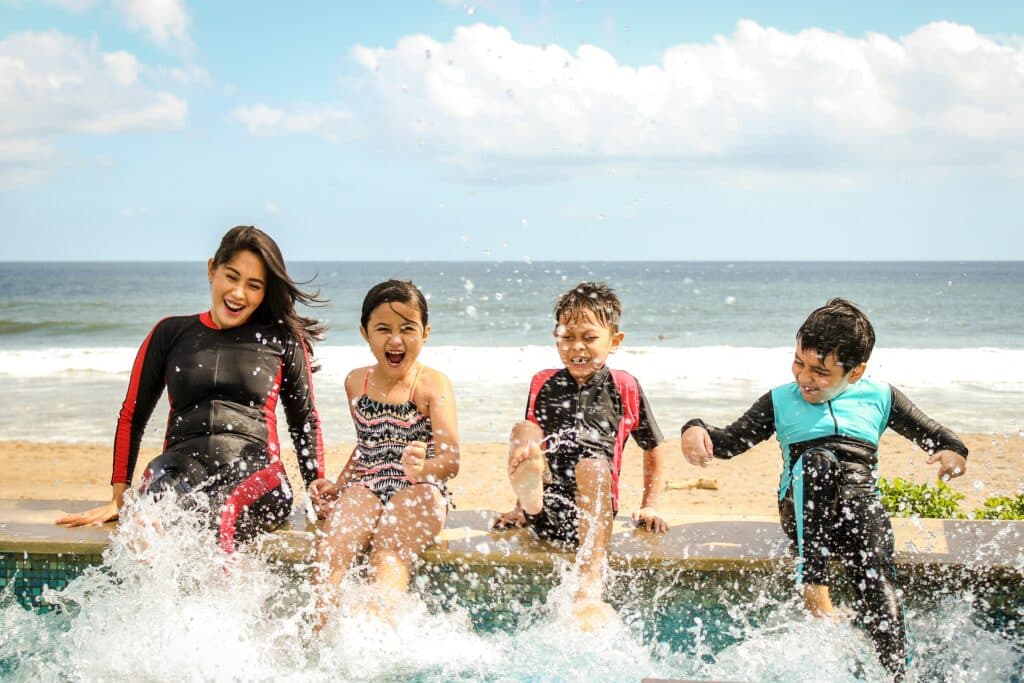 4) Visit a theme park:
Visiting a theme park is an excellent way to bring the family together and have some fun. With hundreds of parks around the world, you are sure to find one with attractions suitable for all ages. Whether it be thrilling roller coasters or more tame rides for the kids, theme parks have something for everyone.
At most parks, there are also carnival games, shows, and even parades that provide an escape from reality and entertainment for hours on end. In addition, if your family has a sweet tooth, many theme parks boast restaurants offering delicious treats and snack stands throughout the park.
To make sure everyone stays safe, it's important to read all warning signs before getting on a ride and respect height and weight restrictions. Additionally, plan ahead by looking up opening times so the family can maximize their time at the park while avoiding long lines or overcrowded rides.
Dollywood is one my favorite family theme parks — largely because my oldest son spent two seasons working there as a singer/dancer.
5) Stay at an all-inclusive resort:
Staying at an all-inclusive resort is an excellent way to plan the perfect family vacation. With endless activities, delicious food and drinks, and luxurious accommodations – all included in the price – your family can enjoy a worry-free getaway.
At most resorts, you'll have access to multiple pools and hot tubs, a variety of water sports like kayaking and snorkeling, plus special children's programs like kids' clubs and playgrounds. And if that's not enough entertainment for your family, other amenities such as fitness centers, spas, tennis courts, and golf courses usually exist.
Another great thing about an all-inclusive resort is that plenty of delicious buffet-style meals will likely be available throughout the day. With a variety of international cuisines to choose from – ranging from Mexican to Italian or Asian fusion dishes – everyone in the family should find something they like. On top of that, many resorts also include alcoholic beverages for adults or even special activities like karaoke nights or live music performances.
6) Cruise the open seas:
Cruising the open seas is an excellent way to bring the family together and have some fun. Not only does it provide the opportunity to explore new destinations, but it also offers a variety of activities and accommodations that are perfect for kids and adults alike.
When cruising, families can choose from a range of activities such as swimming pools, rock climbing walls, mini golf courses, spa treatments, and more. Many cruises also offer shows, games, and other entertainment for passengers of all ages. Kids will especially enjoy the kid-friendly areas where they can play in supervised care or participate in group activities like movie nights or karaoke parties.
In addition to these fun activities, many cruise ships also feature fine dining restaurants, cafes, and even casinos so that everyone in the family can find something they enjoy doing while onboard. Cruises also make great vacations because they require little planning – show up at your port of departure and let your captain take you on a fantastic adventure!
In conclusion, no matter what kind of family vacation you decide to take, finding an activity that appeals to everyone in the group is important. Whether your family enjoys outdoor activities like camping or more luxurious experiences such as a cruise ship adventure, there are plenty of ways for families to have fun together and create memories that will last a lifetime. Make sure you plan ahead to make the most of your trip and don't forget about safety precautions when traveling with kids! With careful planning, your next perfect family getaway could be just around the corner.
This post may include affiliate links