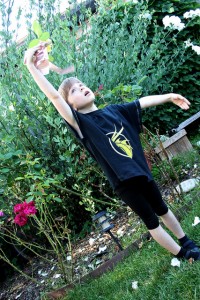 What if your son told you he wanted to dance?
Not hip-hop, not jazz, not even ballroom — ballet. What would you say? More importantly, what would you think?
Ballet remains, in most people's minds, a girl thing. And because of that, most professional male ballet dancers come from outside of the United States. In 2009, six out of the eight male principal dancers hailed from other countries. In 2015, three of the company's principal male dancers are from the US; four are from overseas. The San Francisco Ballet, American's oldest ballet company, is home to just own US-born male principal. The remaining male dancers hail from Cuba, Spain, Brazil, Estonia, Australia, Armenia, France and Russia.
Part of the problem is funding. In Russia, promising boys study ballet at publicly funded schools that combine academics and dance. No wonder so many top male dancers have come from Russia!
The larger problem, though, is stigma. Here in the United States, dance, especially ballet, has been stereotyped as a female thing, and God help the young boy (or teen) who says he wants to study ballet.
My oldest son, Boy #1, took ballet. He was four when he said he wanted to dance, and given his natural inclination towards performance, his father and I agreed to a dance class. Boy #1 loved it.
He quickly noticed, however, that he was the only boy in the class. Through two years of lessons, he remained the only boy in his class. Eventually, I think, he internalized the lesson: dance class is for girls. He quit when he was in first grade.
Thankfully, he hasn't lost the will to dance all together. He's an independent minded person and natural entertainer who's found a home on the stage. Numerous musicals and, now, show choir, fulfill his urge to dance.
I wonder, though. How many other boys give up and suppress an essential part of themselves? How many boys (and men) would live happier, fuller lives, if only dance was recognized and accepted as a male activity too? Yes, progress has been made. So You Think You Can Dance is a top-rated TV show; Dancing with the Stars regularly showcases jocks and famous actors putting on the ritz. But we have a long way to go before parents think twice about signing their sons up for ballet class.
I know.
Why do you think ballet is viewed almost exclusively as a "girl thing?" Has your son ever taken dance lessons? Did he get any flak?