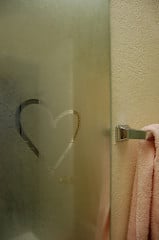 I was attempting to hurry my 6-yr-old through his bedtime routine when he started scrawling something on the steamy bathroom mirror.
"Stop th–," I said, my voice trailing off as I suddenly realized what he might be writing.
His finger continued through the condensation, then he pulled back and smiled at me.
"I LUV MOM," the mirror said. I gave a silent prayer of thanks that I managed to stop my tongue mid-hasty reproach, and hugged my son.
He pointed his finger again. Reached for the mirror. And wrote "SUMTIMES" just below "I LUV MOM."