Glenn Barker, Dr. Marvin Thompson and Dr. Vibe hosted a round table discussion with BuildingBoys founder, Jennifer L.W. Fink and Thabiti Boone. If you missed Jen's interview last week, you can listen to it here.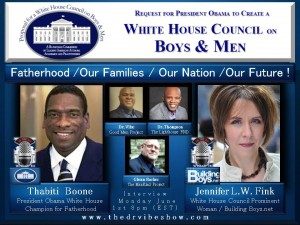 The following two tabs change content below.
Jennifer L.W. Fink is the founder of BuildingBoys.net, a mother of four boys and an award-winning writer. Her work has been published by The Washington Post, Parents, FOX news, Parade and Boys' Life -- & she still spends a significant portion of every day trying to get her boys to put cups in the dishwasher.
Latest posts by Jennifer L. W. Fink (see all)