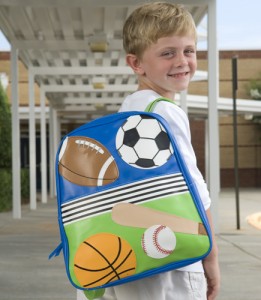 With the school year starting, it is time to set up solid routines for your sons to get back into homework-mode. Here are a few suggestions to help your sons not only stay on top of their schoolwork, but also maintain balance between homework and fun activities:
Give Him Time to Recharge
After a long day of school, sitting down to homework and studying is likely to be the last thing on your son's mind. Set aside a "time out" for him to have a snack and do something he enjoys so that he can recharge his battery. Once he has had a break, he will be more able to sit down and remain focused on completing his homework.
Focus the Energizer Bunny
Help your son to stay focused on the assignments by breaking up assignments into smaller parts and setting aside breaks. Because many boys have what seems like an endless amount of energy, encourage active breaks such as shooting hoops or taking a 10-minute run. The study breaks should be pre-planned activities and not something that will be too engaging or distracting. Also, keep in mind that it is harder to bounce back after lazy activities such as watching TV or surfing the internet.
Make it an Event
It is always more fun to do things with friends. For middle school students it could be inspiring to study with a group of peers. Gather a small study group of 3 – 5 boys and allocate a consistent study space. Help the group schedule time to work and time for breaks. By working together and seeing others doing work, boys will be encouraged to complete homework. Emphasize the importance of homework and encourage the boys to spend time together not just in the backyard, but also with books.
Pencil-it-In
Keep tabs on assignments (such as big projects and upcoming tests) while fostering a feeling of independence and ownership by asking your son to let you know of important upcoming dates. Rather than maintaining a calendar of events for your son, encourage him to fill-out a test calendar and let you know when things are coming up. A family calendar keeps the nagging to a minimum because everyone can see what is going on and nothing comes as a surprise.
Parental Control
Technology is a big part of your son's life. The TV, computer, and cell phone are his portals to information, entertainment, and communication. Teaching him about the boundaries of these technologies and when it is appropriate to use the technologies goes beyond simply putting on parental controls on the television. Have an open dialogue about the internet and phone/texting use and set expectations about times when the TV and computer can be on and also when they need to be turned off.
 Alexandra Mayzler is the Founder and Director of Thinking Caps Tutoring, a comprehensive tutoring company dedicated to developing innovative and individualized approaches to teaching. She participates in the coordination the New York Dyslexia Association's annual conference, is a curriculum consultant for independent and public schools, and the author of study skills book to be published in September 2010. Alexandra spends her free time thinking about how to make studying easier, more interesting, and potentially even enjoyable!