by Jennifer Fink
Just-released data indicates that Hasbro's "boy toy" division is not doing well. According to their financial reports, revenue for the boys' toys division dropped 35 percent in the 2nd quarter. This is the fifth straight quarter that the boys' division has reported a decline.
Analysts (and excuse makers) blame the iPad and electronics. One analyst (quoted in the Reuters article) said, "Boys are gravitating towards electronics at an earlier age now."
Huh.
There may be some truth in that statement. My 7-year-old, for instance, plays on the iPad far more than he plays with toys. In fact, he's pretty much abandoned toys, except for his bike. His older brothers, on the other hand — you know, the ones who were alive before the iPod era — played with toys much longer. Of course, they didn't always play with them as the toy makers intended, but plastic figures, blocks, Legos and cars were definitely part of their repertoire.
Has my youngest son moved away from toys and toward electronics because the electronics hold some powerful sway over him, or is it because he wants to be like his older brothers, who rarely play with toys anymore?
Or could there be another factor at play?
Could it be that boys have abandoned "boy toys" because they're lame?
Take a walk down the "blue" section at any department or toy store. You'll see that the boy toys are clearly demarcated from the girl toys; there is no way to miss the pink, sparkly aisle and then the other aisle. Often, in fact, the aisle is marked with a sign that says "Boy Toys." This is where you find Matchbox cars, Star Wars toys, Bey Blades, Pokemon, GI Joe, Tonka, superheros and Nerf guns. These are the things that are offered to our boys again and again and again. Build things, the toys imply. Smash them up. Make war. Fight. Dominate.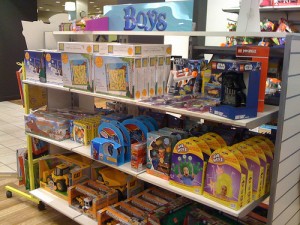 My boys love doing those things as much as the next boy, but is it perhaps possible that boys — and their parents — are refusing to buy into the idea that boy interests must be so narrowly defined? Maybe boys aren't drawn to the iPad and electronics because the electronics are cool (which, of course, they are). Maybe boys are drawn to the electronics, in part, because the world of tech is far larger than the boy toy aisle at Walmart.
Online, boys can build things. They can solve puzzles. They can create things. They can cook or craft, sing or solve, destroy or dance. They can play mindless games, or engage their brains. They can read books, watch video, connect with other human beings.The beauty of an iPad compared to most boy toys is that the iPad can adapt to the interests of the boy. You might argue that a boy can play anything he wants with GI Joe, but let's face it: GI is meant for pretend war games.
Boys, I've noticed, engage the longest with open-ended toys, toys that can be played with in myriad ways. That's why Legos are a hit — there is no "right" way or one way to play with Legos. Same thing with blocks. But so many of the toys marketed to boys can be played with in just one way. What do you do with a Bey Blade, other then enter it into the area and watch it attack another Bey Blade? What do you do with a Matchbox race track other than watch the cars go 'round and 'round?
I'm afraid that toy executives will see the data and come to the conclusion that the answer to their falling revenue isn't more creative, better toys for boys, but more electronic integration. It's been done already; a few Christmases ago, my boys received plastic dinosaurs that could somehow be linked to the Internet. (Toy marketers, pay attention: they didn't stay interested in those toys for long.) I'm afraid that soon, the boy toy aisle won't just be blue and black, but blue and black and electronically-enhanced.
As much as my boys (and I) love tech, I, as an adult, recognize and appreciate the value of life offline. So toy-makers, I plead with you: Instead of just adding electronics to everything to attract young boys, why not try imaging life beyond the black-and-blue? Make some creative, imaginative toys instead.
What do you think? Do your boys still play with toys?