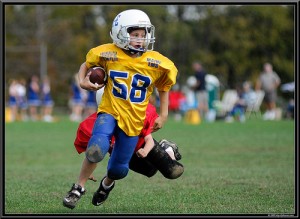 I just returned from dropping Boy #3 off at football practice.  He's 10-years-old.
His older brother, Boy #2, also plays. He's 13. Both boys are in tackle football leagues.
Are you surprised? Our decision to support our boys' desire to play football is becoming less common. While football was once considered the ultimate boy sport, at least here in America, it seems as if the tide is turning. Parents, concerned about concussions, are refusing to let their sons play. I personally know at least three families who won't allow their sons to play football because they're worried about concussions.
I understand their concern. There's an increasing (and long-overdue) awareness that concussions are brain injuries. Study after study has confirmed that concussions interfere with brain function, and that sustaining multiple concussions can cause permanent brain injury. Some even wonder if repeated concussions aren't the reason for suicides among former NFL players and early dementia-type symptoms in retired pro football players.
The risk is real, and I completely respect and support any parent's decision to keep their kid out of football. You know your son and your family better than I do, and I wouldn't presume to try to tell you what to do.
I'm comfortable with my boys playing, though, because I see the coaches and organization taking real steps to support the boys' health. They've invested in top-notch helmets for the boys, and have the helmets inspected and re-certified each year. This past year, the coaches all underwent helmet fit training, and the coaches spent time with each boy to make sure that each boy had a helmet that fit him well.
The coaches also underwent Heads Up tackling training via USA Football, and are teaching the boys the Heads Up technique to minimize the risk of head injuries. They've held a number of informational sessions for parents, and reviewed the signs and symptoms of concussion with parents and players. Should a child exhibit any signs of concussion, he'll be barred from further play until a medical professional clears him for return. My 13-year-old even underwent ImPACT testing to evaluate his baseline brain function. Should he experience a head injury, he'll be re-tested, and the results will be compared to his baseline. He won't be able to return to play until subsequent testing reveals that he's fully recovered.
Plus, my next-door neighbor, a physician, frequently volunteers along the sidelines of community football games. She's not paid for her services, but she's there more often than not anyway, because she cares about this kids of this community and wants to keep them safe.
Given all of that, I'm OK with my boys playing football. Are you? Do you let your boys play football? Why or why not?