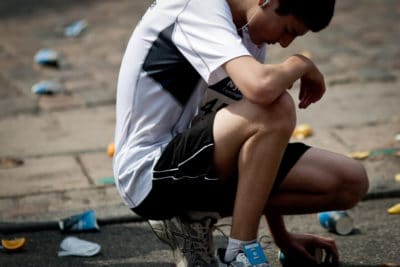 On the positive side, there are some girls who emerge out of the divorced, mother-headed households as exceptionally resilient young women. It seems that some young women thrive on the increased responsibilities and challenges that they face in these families, and they develop warm and deeply affectionate ties with their mothers. Similar findings do not occur for boys.
— Robert Hughes Jr., PhD
Our family has been living apart for almost three months now. It's not easy — Boy #4 continues to ask, several times a day, "When is Daddy going to live here again?" — but we're surviving. Google, however, does not seem at all sure that we should thrive. Ever again.
A quick Google search of "boys" and "divorce" tells me that:
Excuse me for not buying that bunch of baloney. My boys are hurting, to be sure. But more likely to react with anger, aggression and academic problems? That's boys in general. More likely to suffer depression? So are boys in general. As for losing connection and assuming blame — doesn't that happen to all children of divorce?
Call me in denial, but I don't think that's impossible for boys to grow strong and healthy in the wake of a divorce. Challenging, yes. But if I've learned anything in my life, it's that people can overcome all kind of challenges.
So instead of subscribing to the gloom-and-doom, I'm going to teach my boys 9 Basic Rules to Make a Crisis Work for You, borrowed by Isolina Ricci's excellent book, Mom's House, Dad's House: Making Two Homes for Your Child:
1. Don't Go Through a Crisis Alone
2. Learn What's Going On
3. Look for What Works and What Doesn't
4. Care for Your Inner Self and Spiritual Life
5. Take Care of Your Body and Find Safe Ways to Blow Off Steam
6. Keep a Positive but Realistic Perspective
7. Increase Your Skills
8. Watch You Language
9. Keep Your Sense of Humor
I'll be re-visiting these rules over the next few weeks, because I'm convinced that separation or no separation, these are important life skills for boys. Why don't you try putting them into practice in your own life as well? We'll compare notes soon!