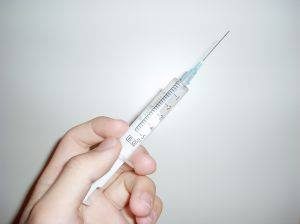 I've had HPV. HPV caused precancerous changes on my cervix, changes which did not resolve spontaneously over time and ultimately required surgical removal. That procedure scarred my cervix, as removal of tissue always does, which led to a much longer and more uncomfortable birth when my 4th son was born, because the scarred portion of my cervix didn't dilate as easily or naturally as the rest of my cervix.
That's one reason why I support HPV vaccination for both boys and girls: I know, from personal experience, that HPV can cause pre-cancer and cancer, and I know that the treatments can cause harm as well. I don't want any of my future daughter-in-laws to have to go through what I went through.
The second reason why I support HPV vaccination: HPV is now the leading cause of oral cancer, a particularly devastating form of cancer because the treatments are uncomfortable and often disfiguring. Immunizing my children against HPV virtually eliminates their risk of contracting HPV-related oral cancer.
Yet the HPV vaccine continues to court controversy, as I discovered when we recently ran an article about the HPV vaccine on BuildingBoys Facebook page.
At least one follower left the BuildingBoys community because of that article, and many more chided us for sharing the article, suggesting that we'd not done enough research on the vaccine. Comments included:
I would suggest that admin do a bit more research before promoting a vaccine that will no doubt be involved in future legal cases (if not already) given the documented vaccine injuries/deaths.
Somebody isn't doing their homework on this vaccine.
Highly recommend more research before promoting.
Many (if not most of you) know me as Jennifer Fink, founder of BuildingBoys and mother of four sons. What you may not know is that I'm also a Registered Nurse and freelance journalist. I'm a member of both the American Society of Journalists and Authors and the Association of Health Care Journalists. I make a living by digging into health stories, asking tough questions and interviewing top experts. And far from uninformed or un-researched, my position in support of HPV vaccination is based on both my personal and professional experiences.
HPV first crossed my radar in 2002, when my doctor's office called to tell me that my most recent PAP was abnormal. As I wrote in an article a year or so later:
Before I was diagnosed with cervical dysplasia, I considered myself a healthy 30-year-old mother of two. Only later did I realize that my age and history put me squarely at risk for dysplasia.
Cervical dysplasia is most common among women of childbearing age, with a peak incidence between ages 25 and 35.2 Risk factors for cervical dysplasia include starting sexual intercourse at age 18 or younger, having multiple sexual partners, childbearing at age 15 or younger, and a history of sexually transmitted diseases, especially human papilloma virus (HPV).2
At the time, I was stunned at how little I know about HPV, this virus that could infect my cervix and increase my risk for all kinds of cancer. I worried about the risk for mouth and anal cancer too, because I figured that if the virus could be spread sexually, it could potentially infect those sites too. But when I asked my doctor about the risk of HPV oral or anal cancers, he downplayed the risk.
I was not reassured.
My initial suspicion was confirmed eight years later, when, while working on a story for ENT Today, one of the country's foremost experts on oral cancers told me, "There is a pandemic of HPV-related cancer in the United States right now. The number of HPV-related oropharyngeal cancers is increasing and it's occurring in younger patients."
Other experts I interviewed echoed his comments. The fact that HPV causes head and neck cancer was no secret to these physicians, who had seen their typical patient morph from a lifelong smoker to a relatively young non-smoker.
In the interim, of course, the HPV vaccine hit the market. It was released in 2006, yet its uptake was slow. Parents were hesitant. Docs were hesitant. And, as with most vaccines, it quickly became difficult to sort out the truth from half-truths and falsehoods. That's at least partly why only 20 percent of boys and 40 percent of girls in the United States are fully immunized against HPV.
I realize that I won't likely "convert" anyone who believes the vaccine is bad. But I would not be doing my duty, as an advocate for boys, if I did not share information about the HPV vaccine.
Lest you think the risk to your sons is minimal, let me point out that HPV, human papilloma virus, is nearly endemic in the adult population. HPV is spread via sexual contact, including oral and anal sex, and there's no surefire way to avoid exposure. Condoms can help, but HPV can affect areas not covered by condoms. And let's be real: who is going to use a condom every time they have oral sex? Have you ever actually met someone who's used a dental dam, a piece of latex designed to prevent disease spread during oral sex on a woman?
Yes, it's uncomfortable to think about our sons – our 10- and 11- and 12-year-old sons – as someday having oral or anal or vaginal sex. But given the fact that HPV is nearly endemic in the population. that nearly every adult eventually has sex, that HPV can cause cancer and that there's no surefire way to avoid HPV infection and no cure for HPV, the truth is that your son is at risk for HPV-related cancer. And there's something you can do to reduce that risk.
According to the Centers for Disease Control, 3 doses of the quadrivalent (4 strain) HPV vaccine provide is nearly 100% effective in preventing cervical, vulvar and vaginal precancers, 90% effective in preventing genital warts and 75% effective in preventing anal precancers in men. The newer, 9-strain HPV vaccine theoretically expands prevention to 90% of HPV-related cancers. And rigorous scientific reviews of the vaccine have proven its safety. Don't believe me? Here's a direct link to a study examining the vaccine's safety from 2006 to 2014. Here's another, to a study researching the effectiveness and safety of the 9 strain HPV vaccine. And here's a link to a Forbes article discussing some of this research in easier-to-understand language. (Note: The Forbes article is by my colleague, Tara Haelle, another member of both the American Society of Journalists and Authors and the Association of Health Care Journalists.)
I've done my research regarding HPV and the HPV vaccine, and I continue to follow news of the vaccine, HPV infections and HPV-related cancers. I hope you will too.