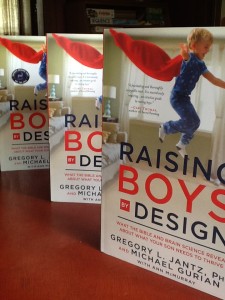 Have you heard of Michael Gurian? He's a nationally-known "boy guru" who's written a number of books about boys, including The Minds of Boys, The Purpose of Boys and The Wonder of Boys.
His latest book, Raising Boys by Design: What the Bible and Brain Science Reveal About What Your Son Needs to Thrive
, hits the shelves today, and we're offering you a chance to win your very own copy.
Raising Boys by Design: What the Bible and Brain Science Reveal About What Your Sons Need to Thrive was co-written by Gurian and Christian psychologist Dr. Gregory Jantz. The book is a bold attempt to integrate biology, brain science and Biblical principles — and whether or not you believe in the Bible or in brain-based sex differences, this book is worth a read, because both the Bible and brain science are shaping the world our boys live in today.
Dr. Gurian will be on BuildingBoys later this month to discuss the book. I'm currently reading it, and would love to have some readers join me for a virtual book club. (If you're interested, tell me in the comments; we'll work out the logistics later.)
I have three copies of the book to give away. Want one? Here's how you can enter our book giveaway:
Leave a comment below, expressing your interest in the book club or sharing one thing you've learned about raising boy. If you'd prefer, you can leave a question about boys instead. Be sure to include your contact info, so I can contact you if you're a winner. One comment = one entry. To earn additional entries, you can…
Tweet the contest. Each tweet (up to one per day per entrant) equals one more entry. Please include our Twitter tag (@BuildingBoys so we know you've tweeted!
Mention the contest on Facebook. Again, be sure to let us know. (You can find us on Facebook at BuildingBoys.)
Mention the contest in a blog post and include a link back to BuildingBoys.
The contest will run through midnight Central Time Friday, September 27. The winner will be drawn at random via http://www.random.org/ and will be notified ASAP.
Good luck!