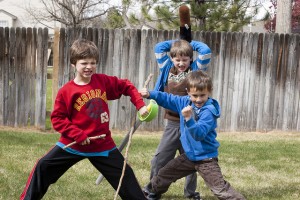 If you have boys at home, you know they're built for battle. Whether you allow gun play or not, whether you own a TV or not, I'll willing to bet that your boys have played some kind of war/cops-robbers/good guy-bad guy game — probably within the last 24 hours.
But not all adults are comfortable with this kind of play, and that can be a problem for boys in school, in daycare and at home.
A 2010 MSNBC article, "Bring it: Boys may benefit from aggressive play," analyzed the research on both sides of the story and concluded that there is nothing inherently wrong with boys' battle play. However, many teachers (and some parents) continue to believe that allowing mock battle play will somehow reinforce violent attitudes and behavior.
And, on a practical note, many teachers and parents simply find battle play harder to deal with than, say, pretend house play. In the MSNBC article, researcher Mary Ellin Logue is quoted as saying, "We don't want to condone violence, we don't want to risk it getting out of control…"
I can relate to that concern. As a parent, it can be extraordinarily difficult for me to let the battle play continue, especially when I see the stakes rising or a younger brother getting frustrated. As a parent, I know only all too well that the line between happy play and sobbing child is tissue-paper thin. As a parent, it sometimes seems that would it be much easier — for me — to squash the battle play all together than to deal with raised voices, swinging swords and potentially unhappy children. But is that best for my boys?
I think not, and the research agrees with me. Sophisticated play (yes, even play that includes one team holding down the fort while the other tries to break in) helps children learn delayed gratification, consideration for other's perspectives and impulse control. It also encourages imagination and storytelling, two skills that are crucial for later success in writing. And battle play may even help children deal with their inner demons. Some researchers suggest that fighting against "the bad guys" is little boys' way of working through their own less-than-admirable impulses. "These bad guys," Logue is quoted as saying, "give them a way to externalize that part of them that they are trying to conquer."
So before you rush in to break up your sons' battles, take a breath. Watch. Listen. Observe. And when you feel your adrenaline rising, remember these words of Michael Thompson, author of Raising Cain: Protecting the Emotional Life of Boys: "Play, rougher in its themes and rougher physically, is a feature of boyhood in every society on Earth."