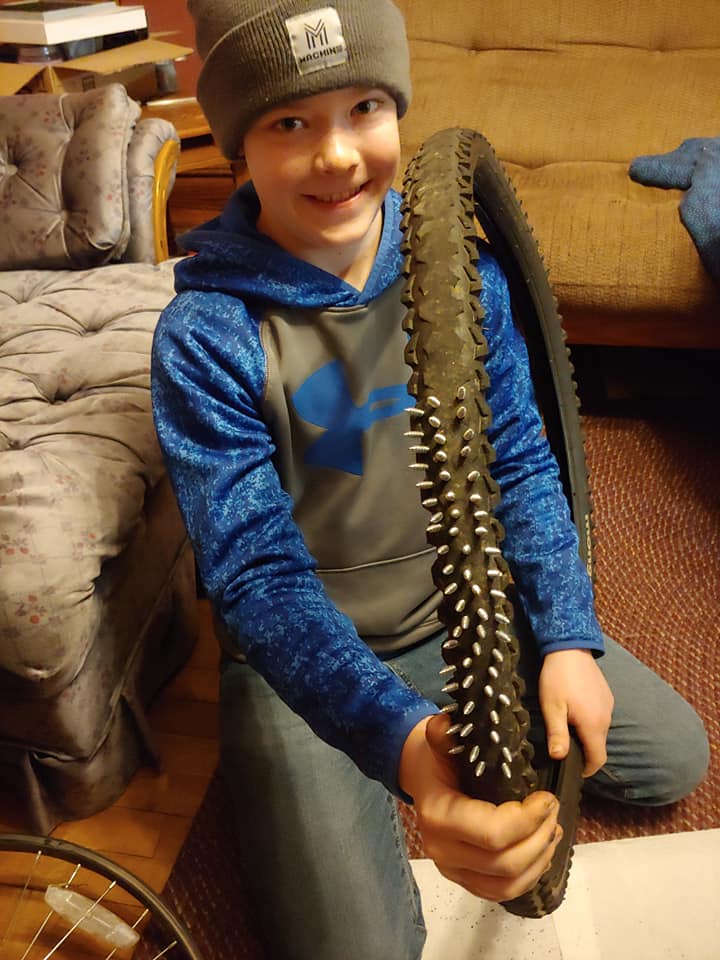 Google "how screen time affects kids" and you'll be inundated with nearly 39,000,000 articles with titles such as "How to Limit Screen Time" and "What Screen Time Can Really Do to Kids' Brains." You'll see teaser phrases that tell you "Screen time isn't great for anyone's brain. It may be a particular concern for kids'."
Everywhere you look today, you see parents, teachers, authors and psychologists wringing their hands and ringing alarm bells over the amount of time our children now spend online, in front of devices. And the time our kids spend tethered to screens is not insignificant. According to a 2018 survey by Common Sense Media, teens now spend an average of nine hours a day online. (A 2016 Common Sense media survey says that parents spend nine hours a day with screens as well.)
In the popular imagination, kids today are unmotivated slugs who spend most of their time mindlessly swiping screens. Screen time, most people seem to believe, is stealing our kids' creativity and motivation.
But that's not what I see. Look at the picture above. That's my 12-yr-old son, Sam, with his latest project: studding bike tires, so he'll be able to ride his bike on the ice. I'd gone to the store to gather supplies for dinner; I came home to Sam and a friend, driving screws into bike tires (in my family room). I snapped a pic and shared it in our BuildingBoys FB group. Overwhelmingly, the comments praised their effort and ingenuity:
Love his expression! Industry, pride, hope, etc.

Love that they aren't sitting around saying their bored! Great thinking!

Creative work…

Give a kid a drill…love the ingenuity!
This project, though, was born of online time. Take a look at Sam's hat: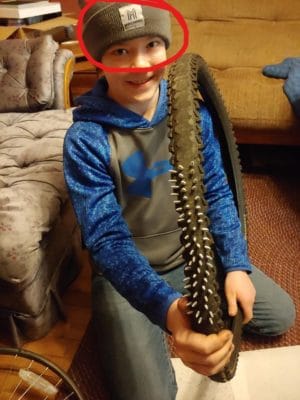 See that logo? That's the logo of 3D Machines, a YouTube channel with nearly 700,000 subscribers. The channel was created by a 23-year-old named Dalton who works on engines and tweaks machines. Sam, as you can tell is a big fan; he bought the hat last year with his own money. (Yes, YouTubers have merch; it's big business!)
Sam is a self-motivated, mechanically-minded kid who spends most of his time in an educational environment that doesn't recognize or respect his particular brand of genius. His school is not a hands-on environment, unless you count hands-on-keyboard or hands-on-pencils. He'll have to wait another two years — until high school — to take a Tech Ed class. Until then, he's on his own, and that's where screens come in.
Online, Sam has been able to find others who share his interests. He's found how-to videos that have taught him useful skills (how to sharpen the blades of his lawnmower) and inspired him to try new things. Studding the tires with screws wasn't his idea; it was something he saw on YouTube.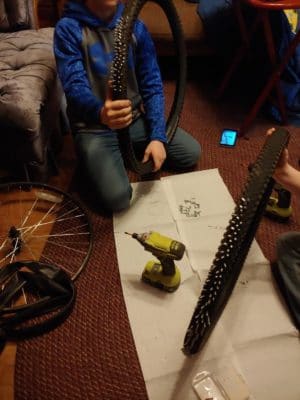 In fact, if you look closely at this pic of the boys in action, you can see Sam's phone; they were watching a video while they worked. That's not to dismiss the boys' passion or energy; they were all in. They were 100% engaged in their work — in a way neither is when he's in school, I'm sure — and they were problem-solving on the go. Since I took these photos, the project has gone through several more iterations. Sam learned (from another video) that the screws were too close together, and completely re-studded the tires. He put the tires on the bike, tested them on ice, and popped an inner tube, so he brought the tires back inside and reinforced the insides of the tire with duct tape, in the hopes that it'll keep the screw heads from puncturing the inner tube.
That's engineering in action. That's the growth mindset at work. And it was inspired by YouTube videos.
I know Sam is a case study of one; his experience does not necessarily extrapolate to the public at large. And yet, he's not the only one. Judi Ketteler's son, Maxx, found the #gTramp community online, as a result, has expanded his physical capabilities and friendships. My on-screen time translates into real-world activities and accomplishments too. I've spent the last few months learning the art of acrylic pour painting from YouTube videos, websites and online communities — and recently opened my own Etsy shop.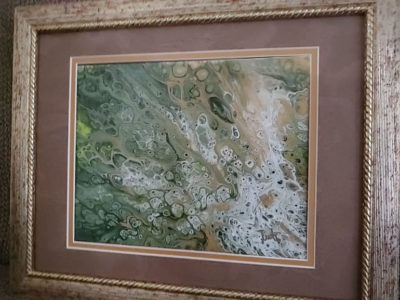 Without access to the Internet, to screens, would my son have discovered how to stud tires? Would he have learned everything he learned in the process? I can't say for certain, but I can say this: Without the Internet, without access to screens, I wouldn't have known that acrylic pour painting was a thing. Thanks to the Internet and screens, I've discovered and nurtured a side of myself that I'd almost forgotten. I've learned many new things and developed a marketable skill. I guess that for Sam and for Maxx and for many other boys, the story is the same. Screens and the Internet allow them to nourish their passions, to grow and to connect with others who share their interests.
All screen time is not created equal, and yes, some people (myself included) spend many unproductive hours online. Demonizing screens and screen time, though, is not the answer. Instead of belittling or bemoaning your sons' screen time, look more closely. What are they doing online? Are any of their online activities leading to real world exploration? Do they do anything besides sit passively in front of a screen? As long as the answer to those last two questions is "yes,"relax.