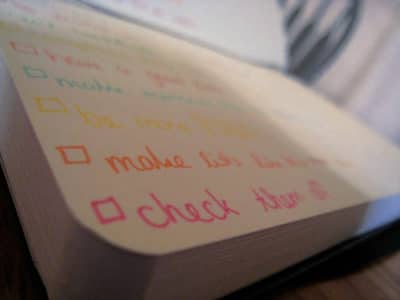 Resolutions and New Year's go hand in hand, right? So why not make a few resolutions at the beginning of the new school year? These 5 resolutions can take some of the stress out of school (for you and your son!)
1. I will get to know my son's teacher.  Your son's teacher will be an important figure in his life. Take some time to learn a little about his teacher: Who is he/she? How long have they been teaching? What's their philosophy of education, and their expectations regarding homework and family involvement? What are they passionate about? That kind of information will help you understand where the teacher is coming from, which will help you understand the teacher's actions throughout the year.
Share information about your son, yourself and your family with his teacher also. The more his teacher knows about your son's likes, dislikes, struggles and strengths, the better she'll be able to help him. If your family is experiencing a challenge, such as a serious illness in the family or lack of reliable transportation, let her know. Most teachers are very willing to work with students and families, and a teacher who knows that a student was up late visiting his dying grandma, for instance, will likely respond very compassionately if he falls asleep in school the next day.
If you haven't yet met your son's teacher, drop her an email to introduce yourself and express your interest in working together. Build on that relationship throughout the school year. Introduce yourself at school activities. Attend parent-teacher conferences, if you are able. (If you can't, call or email the teacher and ask if you can connect another way.)
2. I will facilitate my son's interests. Learning isn't confined to the classroom. In fact, your son's interests might not be addressed in school at all. That's one reason why so many boys hate school: their interests aren't reflected in the typical academic curriculum. (My youngest son, for instance, loves lawnmowers and is passionate about farming and fixing things — topics not usually address in 6th grade.)
You can contribute to your son's overall growth — while decreasing some of his frustration with school — by giving him ample opportunities to pursue his own interests and passions. For me, that means giving my youngest son plenty of time in the garage with his tools. It means having many, many conversations about lawnmowers and giving him rides, as needed, to the homes of his lawn clients. It means connecting him with others (such as my dad) who can build his skills.
What's your son passionate about? (Yes, video games counts as a passion.) How will you facilitate his non-academic interests this year?
3. I won't make negative comments about school. I value education and learning, but I don't love everything about school. I do my best to keep my negative thoughts and comments to myself, though, because kids take cues from their parents. If I say, "school is stupid," or even "that's dumb!" (regarding something the teacher or school did), I'm subtly reinforcing the idea that school is a bad thing — and that thinking, unfortunately, is all too common and has been implicated as one cause for boys' underachievement in school.
Watch your language regarding school, homework and education. If you have concerns, they're best discussed with another adult, rather than aired in front of your child.
4. I will ask questions, rather than make accusations. It's so easy to jump to conclusions! And when it comes to our boys, it's very easy for us parents to side with our boys when they say things like, "the teacher hates me" or "she gave me a F for no reason!" But often, we're only getting part of the story. So this year, rather than firing off an accusatory email, take a breath. Pause. Ask your son for more info. If needed, ask the teacher or school for clarification; there's likely a very good reason why the school chose that particular grading policy, for instance, or disciplinary choice.
5. I will not nag my son about homework. It's one thing to remind your son about his homework; it's another to nag him. Nagging — or constantly talking about and commenting on your son's homework — DOES NOT HELP. No child, in the history of the world, ever became more responsible or organized due to nagging. (Need some organizational strategies? Check this helpful article.)
Nagging creates tension between parent and child, and can poison your relationship (and ruin your evening!). If your son won't do his homework, figure out why. Talk to your son, and talk to his teacher. Be willing — and this is the hard part — to let him fail. If your child doesn't do his homework or turn it in, let him suffer the natural consequences, which may include poor grades and exclusion from extra curricular activities. Give your son as much control as possible over his school work and his homework; let him figure out when, where and how to work, and respect his choices.
What are your back-to-school resolutions?